Gym Design | Five Questions to Ask Before Building Out Your Gym
So you've leased a space and now you want to make it your own. Here are the 5 questions you need to answer when you are transforming your building into a dominating space for your members.
1. What type of facility are you looking to create?
You probably already have an idea of the kind of gym you want to make, but prioritizing the most important elements will help while you're going through the buildout process. Are you trying to cater to a niche audience? Whether it be a bodybuilding gym, a physical therapy space, athletic training, or other specific groups, you'll want to consider these needs while laying out your space. How do you want each area to flow into the next? What do you need to accommodate?
| | |
| --- | --- |
| Lighthouse Gym | 1st Phorm Headquarters Corporate Facility |
2. What services/amenities are you wanting to highlight as key features of your facility?
Prioritize your floor plan and your budget with the keystone features you're wanting to have to drive people to your gym: childcare, tanning, saunas, functional training space, turf, group fitness, etc. Which ones are the most important to you and your business model based on the square footage you choose?
3. What are some local elements that can tie your community into your facility?
The community and culture where you are establishing your gym can sometimes provide inspiration for how you want to build your gym's brand. Some great examples of some of our gyms that have brought their local experience into their gyms are: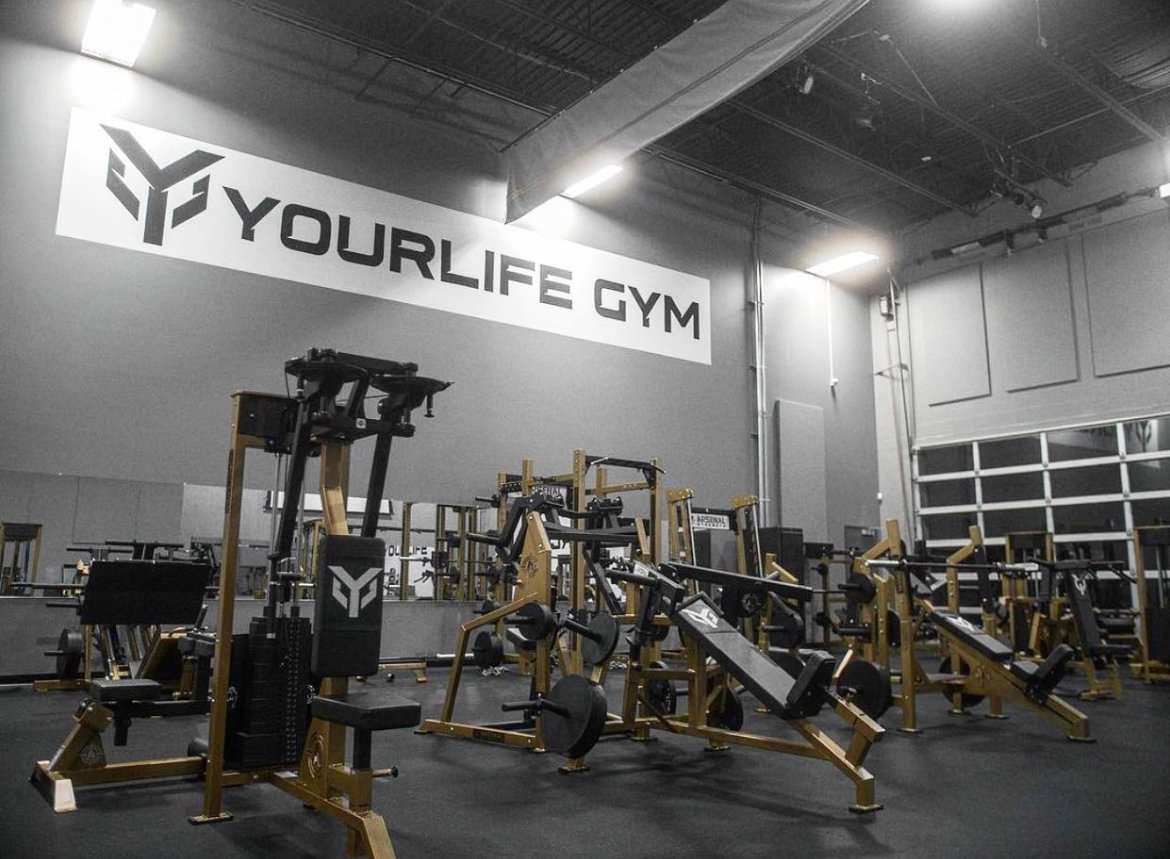 Your Life Gym- "Recognizing that one of the tactics he personally used for his own self-care and mental well-being was exercise, Jake [Luhrs] hatched a plan to launch a gym to impact his local community. He wanted to step outside the box and create a gym where his clients would feel loved, accepted, and empowered." ("About Us: The Yourlife Gym: Lancaster, PA." The YourLife Gym, 2023, www.theyourlifegym.com/about-us)


Jake wanted to create a positive change after seeing how the pandemic affected his community's mental health. His mission was to fuse physical fitness and mental health to provide his members with unconditional support. So along with their gym membership services, they offer men's and women's groups to facilitate support and community.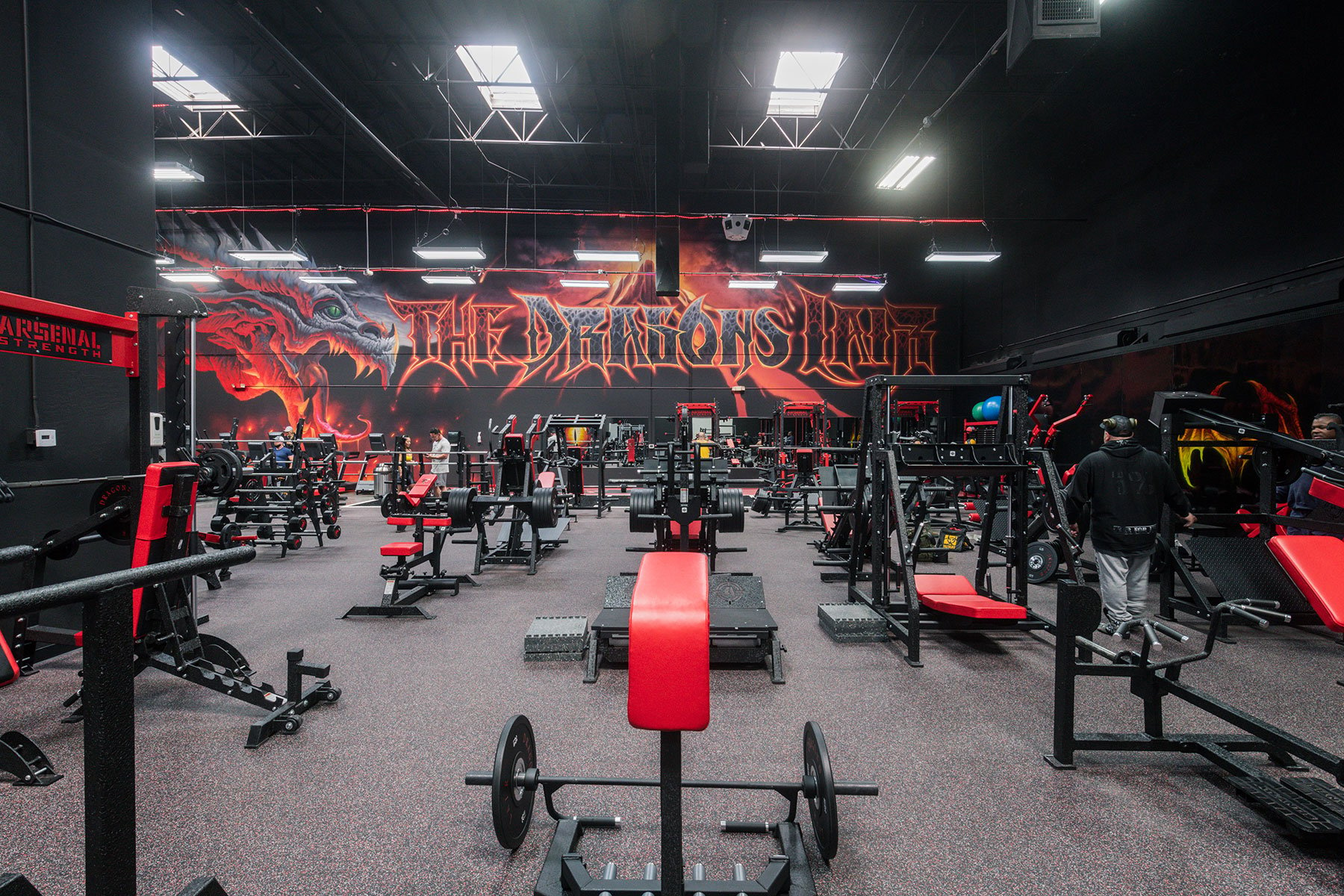 The Dragon's Lair - Flex Lewis took a lot of inspiration from Las Vegas and Bodybuilding when he built his gym. This was reflected in the artwork on the walls and the custom dragon scale powder coat on his machines. Flex is 7 time Mr. Olympia champion and he wanted to use his knowledge of the bodybuilding industry to create a space that would ultimately become an inspirational space for bodybuilding professionals and those pursuing their titles.
Las Vegas is also a great opportunity for traveling gym-goers. Many people visit Las Vegas, and the Dragon's Lair offers a badass gym with exceptional facilities in what could be considered a "tourist town."
4. What do you want your aesthetic to be?
Color selection, lighting, flooring and branding are all going to work together to create identifiable areas within the layout itself. Additionally, you need to decide what the overall feel of your gym needs to be. Bright and vibrant? Darker and moody? Modern? Traditional?
Decide and know who you are and make sure your visuals promote that. Once you identify this, you have established a huge part of your branding, which plays a huge role in marketing your business.
| | |
| --- | --- |
| Hub City Fitness uses bright lighting, and light flooring, with contrasted black and blue equipment. This contemporary look is inviting to gym members and creates an appealing atmosphere. | Fox Fitness created a facility to serve its community and provide an inspiring and fun atmosphere for its members. They used their signature orange color to promote their brand and provided multiple areas for group fitness and specialized training. |
| Iron Vault Sono was the second location for the Iron Vault Gyms. They consistently use a dark and moody aesthetic to promote a "serious" training environment for their members. | Jekyll & Hyde Gym wanted to create a 360-degree experience. Their edgy black and red color scheme, vibrant wall art, and inspirational messaging reinforce a sense of energy and intensity that promotes their brand. |
5. What areas of the facility will be HIGH-TRAFFIC opportunities for Brand Placement?
Once you have your brand established, look for walls and open areas that would serve as opportunities to showcase your branding. Some great examples of visual branding are
Backlit logo displays, murals, and photo ops

- all of these can be excellent opportunities for organic marketing on social media.



Turf

- since it's an open space and is often a focal point for gyms, turf is an ideal location for a logo or brand-specific image



Well-organized merch displays

- not only is providing merch for your gym a great way to increase brand awareness, but creating an inviting space for your merch adds extra incentive to customers wanting to purchase. Often people enjoy the experience of shopping in an inviting space rather than having to request it from behind a desk or exclusively via e-commerce. Give customers the chance to touch and feel your products and give them a pleasant atmosphere so they feel more encouraged to buy products.



Branded Backplates, Bumper Plates, and Upholstery Covers

- people are actively using your equipment and when you order custom pieces, like those from Arsenal Strength, adding branding can be an impactful way to showcase your brand.



Create an exclusive environment in your gym

- for example, the Dragon's Lair has a massage room that they have branded "#TortureRoom." This is a great opportunity for social media marketing and it gives their space a unique room that fits within their brand. Flex Lewis also chose to pay homage to his late friend and training partner by naming a dedicated posing room in the Dragon's Lair after Dallas McCarver


| | |
| --- | --- |
| Backlit Logo Displays | Murals/ Photo Ops |
| Turf | Well Organized Merch Displays |
| Branded Backplates and Bumper Plates | Custom Upholstery Covers |
| The #TortureRoom at the Dragon's Lair | The Dallas McCarver Posing Room at the Dragon's Lair |
Here to Help
Our team at Arsenal Strength works with gyms every day to build out inspiring facilities that give gym members an exceptional space to train. If you are working on building out a gym and need help with these questions, we can help. Check our Instagram to see our latest projects.
Resources
Gym Design | The Dragon's Lair Gym in Las Vegas
Gym Design | MPower6 X Arsenal Strength Part One
Gym Design | MPower6 X Arsenal Strength Part Two
Arsenal Strength x Carbon Culture | Gym Design
Gym Design | Find the Best Building for Your Gym